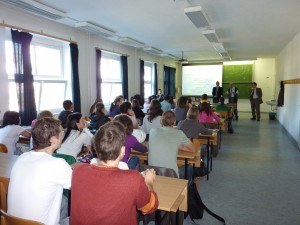 From Monday, September 20 through Friday, September 24, 2010 the Faculty of Economics of the University of Pannonia, Veszprem, Hungary, organized its second annual International Week.  Through the International Week, students and faculty are exposed to a wide range of current international issues through interaction with visiting lectures.  In September 2010 professors from Finland, Germany, Poland, Russia, the United Kingdom and the United States contributed to and participated in the International Week.
On Monday, September 20 and Tuesday, September 21, 2010 Geoffrey Mazullo, Adjunct Professor, School of American law (SAL) – Poland delivered two lectures entitled, "Reporting on Environmental, Social and Governance (ESG) Indicators by Listed Companies in Central and Eastern Europe (CEE)."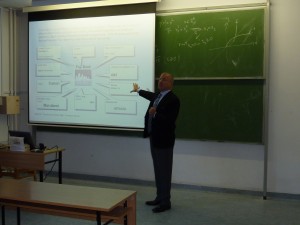 Following an explanation of ESG indicators and the impact of these extra-financial issues on corporate performance, students analyzed several mini-case studies about ESG reporting by listed companies in CEE.  They also debated and discussed how investors and other stakeholders use extra-financial data in analyzing corporate performance.
To download the presentations delivered during the lectures, please click on the links below:
Presentation – ESG Reporting – International Week – September 21-22, 2010.pdf
Presentation – PFS Program Surveys – International Week – September 21-22, 2010.pdf