Today Emerging Markets ESG launches a new feature – a weekly expert interview entitled, "Five Questions about SRI."  Each week Emerging Markets ESG will publish an interview with an expert from academia, business, development, finance, government, a non-governmental organization (NGO) and/or research.  Four questions will be same in each interview; one question will be specific to the expert, her/his county, her/his area of expertise, etc.
The weekly interview will feature a practitioner's insights about SRI in emerging markets and through Emerging Markets ESG share this expertise with a wide global audience.  The goals of Five Questions about SRI are fourfold:
To reflect on what SRI in emerging markets means to practitioners;
To collect a catalogue of examples of SRI in practice in emerging markets;
To raise awareness about SRI in emerging markets; and
To enable SRI practitioners in emerging markets to network with peers around the world.
This inaugural interview is with Jay Vontobel, SRI Offifer of Vietnam Holding Asset Management Ltd, an investment management company incorporated in the British Virgin Islands, with representative offices in Hanoi and Ho Chi Minh City and a subsidiary office in Zurich, Switzerland.  Since 2006 Jay has contributed to the value investment approach at Vietnam Holding Asset Management Ltd. As head of the sustainable investment program he manages a range of engagement activities. He is based in Ho Chi Minh City charged with the integration of the fund's ESG investment strategy. Before joining Vietnam Holding Jay held positions at SwissLife Asset Management and Julius Bär Investment Funds, among others. He holds a MA in Economics from the University of Zurich and is a Swiss and Thai citizen.
Emerging Markets ESG:  How would you define socially responsible investment (SRI)?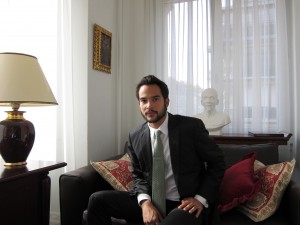 Jay Vontobel:  With the many acronyms and definitions in use today, it is a matter of perspective how asset owners and managers define their commitment to sustainable investment.  A broad view of Sustainable and Responsible Investment (SRI) includes thematic approaches such as renewable energies or microfinance, but also prominently features environmental, social and governance (ESG) integration, and active investee company engagement strategies.
Our definition of SRI requires the value-based analysis of financials, as well as the screening of companies' products and practices to identify those that are unsustainable or unacceptable to investors.  For example, on ethical grounds, Vietnam Holding excludes investment in companies with more than five per cent of revenues from tobacco, armaments, or distilled alcohol.  The fund also excludes enterprises which violate international agreements such as the International Labor Organization's child labor restrictions.
Emerging Markets ESG:  What distinguishes SRI from mainstream investment?
Jay Vontobel:  The primary differences result from the basic conviction that long term value cannot be generated without long term sustainability. We believe that companies that are committed to making a positive impact on the people with whom they interact and on the environment in which they operate will be better managed and ultimately more successful. Such companies make a fuller appraisal of the risks and opportunities in their marketplace and offer investors greater opportunity for both financial and personal reward.
Emerging Markets ESG:  Which extra-financial theme – environmental, social or governance – is the most challenging for companies in Vietnam to manage?
Jay Vontobel:  At this early time in Vietnam's emergence as a marketplace, all three are the focus of concerned and committed managements. Given its political background, the government has always stressed social awareness.  As the country moves from agrarian to industrial strength, environmental impact and the long term quality and quantity of natural resources are becoming increasingly important. Underlying all efforts at true sustainability is the acknowledgement and practice of ethical openness and full transparency. If true success is to be achieved in Vietnam, or in any market seeking continuing growth, the management of these factors must be well combined and given equally dedicated focus and consideration.
Emerging Markets ESG:  Which extra-financial theme – environmental, social or governance – is the most challenging for investors in Vietnam to analyze?
Jay Vontobel:  We have found enterprise transparency and corporate governance practices to pose significant challenges to financial valuation.  In this former planned economy the state retains holdings in many companies, entailing a lack of flexibility and dependency on government officials, where not all management teams have made the transition to market dynamics smoothly.  In some cases disclosure is held at a minimum and can come together with management graft or bribery issues.  With our strong governance practices VNH has successfully limited exposure to such setbacks in the large majority of our portfolio companies.
Furthermore, with little government support of environmental protection before 1986, the country has seen limited effort go into legislating and adopting environmental regulation. The existing sound legislation is enforced selectively, and corruption and resource limitations remain a challenge. Though this makes transparent quantification a challenge, VNH monitors the key industry environmental indicators and actively engaged with companies on the consequences and the opportunities of regulatory change.  In doing so, we hope to contribute not only to an improved portfolio, but a better Vietnam as well.
Emerging Markets ESG:  Which SRI strategy or strategies does Vietnam Holding Asset Management Ltd. employ?
Jay Vontobel:  The objective of our sustainability focus is to deliver above average risk-adjusted return to shareholders by enhancing our financial analysis with environmental, social and corporate governance factors. We actively and carefully integrate all these considerations in our analysis and investment decision making processes. The integration of key ESG factors is an integral part of our investment strategy, as is our direct engagement with investee companies and our multi-stakeholder approach in addressing these important issues with the local corporate and investment community. Based on the recent rating that Vietnam Holding's portfolio received from Inrate, a Swiss sustainability rating agency, VNH has identified several specific areas where we will engage with the portfolio companies in order to improve their environmental, social and governance performance. Through such efforts and the stated commitment to improve the performance of our investee companies, VNH and its investment team are on an ambitious path to building a portfolio of growing long-term value, on a sustainable and responsible basis. Our experience to date and growing factual evidence make clear that this will translate into both rewarding stakeholder  satisfaction and superior shareholder return.