Organized by and C5 and Responsible-Investor.com. 
Geoffrey Mazullo, Principal, Emerging Markets ESG, moderated a workshop on sustainable investment in Central and Eastern Europe (CEE).  He opened the session with a presentation entitled, "ESG Reporting in CEE:  2001-2011."
Martin Pitura, Managing Director, GES Investment Services (Poland) delivered a presentation in which he compared the ESG reporting of Polish listed companies with their European peers.
In his presentation, Alvar Roosimaa, Fund Manager of the Limestone New Europe SRI Fund explained: "Now in its fifth year of operations, Limestone has always strived for offering investors new approaches to investing in New Europe.  Being the first SRI fund manager in the region means  that Limestone has been at the forefront of educating companies about social responsibility,  trying to convince the SRI puritans that not all proven methods can be applied to emerging  markets and proving to old school traditionalist investors that attention to sustainability is not  going to destroy fund's performance."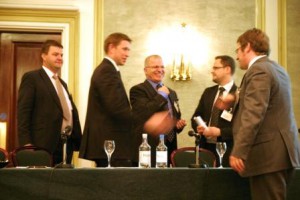 Rein Ojavere, Head of Research at Limestone elaborated Limestone's structured research approach, which has helped the fund deliver solid performance.  According to Rein c, "The cornerstone of the investment process is a unique in-house research database and valuation tool with integrated ESG assessments to assign fair value targets to more than 300 companies in New Europe.  Direct lylinked to investment process, the structure of Limestone research method ensures that ESG factors have an important role in the final portfolio construction."