Each week Emerging Markets ESG publishes an interview entitled, "Five Questions about SRI."  The interview features a practitioner's insights about SRI in emerging markets and through Emerging Markets ESG shares this expertise with a wide global audience.  The goals of Five Questions about SRI are fourfold:
To reflect on what SRI in emerging markets means to practitioners;
To collect a catalogue of examples of SRI in practice in emerging markets;
To raise awareness about SRI in emerging markets; and
To enable SRI practitioners in emerging markets to network with peers around the world.
This week's interview is with Rebecca Maconachie, Energy and Sustainability Analyst, Impact Energy, Toronto, Ontario, Canada.
Impact Energy is a professional energy-consulting firm with comprehensive experience in the energy conservation industry. Impact Energy is an industry recognized name for providing services designed to reduce energy costs. Since 2011, Impact Energy has provided unique services to help businesses reduce their energy costs through energy auditing, cost analysis, saving opportunities and retrofitting. Located in Toronto, Ontario Impact Energy has worked with many businesses to help lower their energy costs.
Rebecca Maconachie is a young environmental business professional with an aptitude for creating sustainability frameworks within business. Her passion for environmentalism began at a young age. When Rebecca decided to further her education, she chose a degree in environment and business. By pairing these two fields, Rebecca became knowledgeable in both fields. She graduated from the University of Waterloo in April 2013, with an Environment and Resource Studies major and a Business minor.  Now, a year after her graduation, Rebecca has begun gaining experience within the energy industry. Currently, Rebecca is employed by an energy management and consulting firm, Impact Energy Services Inc. She began work as an intern for the company and is now an Energy and Sustainability Analyst.   Rebecca is active in a number of online forums engaged in sustainability issues.
Emerging Markets ESG:  How would you define socially responsible investment (SRI)?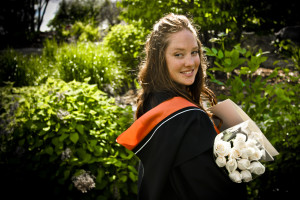 Rebecca Maconachie:  SRI broadens the scope of investment strategies, which allows for a deeper investigation of a business' practices. Though ESG is difficult to define and measure, SRI forces a clearer understanding of a business' best practices.
Emerging Markets ESG:  What distinguishes SRI from mainstream investment? 
Rebecca Maconachie: What distinguishes SRI from mainstream investment is the criteria involved in the choosing of investment strategies, which puts a greater value on ESG indicators, in addition to financial return. The mainstream method of investment, for the most part, assesses the financial value and potential return. That being said, by not considering the impact of that investment socially and environmentally, this investment may support industries that are harmful and destructive. Thus, SRI strategies encourage companies to improve their standing as a socially responsible business, and attempts improves investment strategies.
Emerging Markets ESG:  Which extra-financial theme – environmental, social or governance – is the most challenging for companies in emerging markets to manage?
Rebecca Maconachie:  Many companies within emerging markets struggle to incorporate ESG into their corporate structure, in part, due to their rapid growth. Because of this growth, environmental concerns are often not taken into consideration until that company's growth has ceased. This is because, as all companies are financially driven, all need to ensure their success and stability first, before taking their environmental impact into consideration.  As a result, it is difficult to invest in let alone manage the environmental aspect of businesses within emerging markets, and thus is most challenging for them to manage.
Emerging Markets ESG:  Which extra-financial theme – environmental, social or governance – is the most challenging for investors in emerging market companies to analyze?
Rebecca Maconachie: It is difficult to even measure a positive environmental impact in any respect, as environmentalism within the corporate world covers a large scope of issues and functions. As a result, environmentally conscious activities and their impacts within emerging market companies are difficult to analyze. Though there are ways around this, investors in emerging markets have another obstacle, the lack of baseline information regarding what a new company's accepted environmental impact should be.
Within emerging markets, though their current impact is known, companies cannot be accurately benchmarked against others. With this issue, a company's environmental standing must be estimated. Also, new processes and best practices that would be introduced to the company upon further expansion would have to be continually assessed, as they rapidly grow and change to accommodate their new market.
Emerging Markets ESG:  Where is the nexus between sustainability and SRI in emerging markets?
Rebecca Maconachie:   Compliance within businesses is a connection between sustainability and SRI. Sustainability and SRI within emerging markets are meant to encourage a business' involvement in environmentalism, and for companies to become more conscious of the impact they have on the environment and community.
Through adopting SRI, investors reinforce ESG practices within companies who need investment. Subsequently, businesses that are more conscious of ESG will attract more investment by companies looking to invest responsibly.